A guide to the new features and content of Bodyswaps 1.7
Version 1.7 is the product of our response to feedback generated through extensive pilot testing. Our biggest and most ambitious release to date, it incorporates new, more diverse characters and additional environments - as well as fresh content, additional functionality, a new onboarding experience, more personalized and informative analytics, and lots of usability fixes.
Features
Tutor room and new characters
Learners now begin their Bodyswaps experience in a new Tutor Room instead of the previous corporate lobby area. This brightly lit, informal setting becomes a familiar place for the learner to meet with their virtual coaches for introductions and onboarding as well as regular briefs and debriefs that help consolidate the key motivations and messages of the training.
You'll also notice some new faces in our family of characters. Welcome to Tula and Ashley. We've also given Florence a new haircut.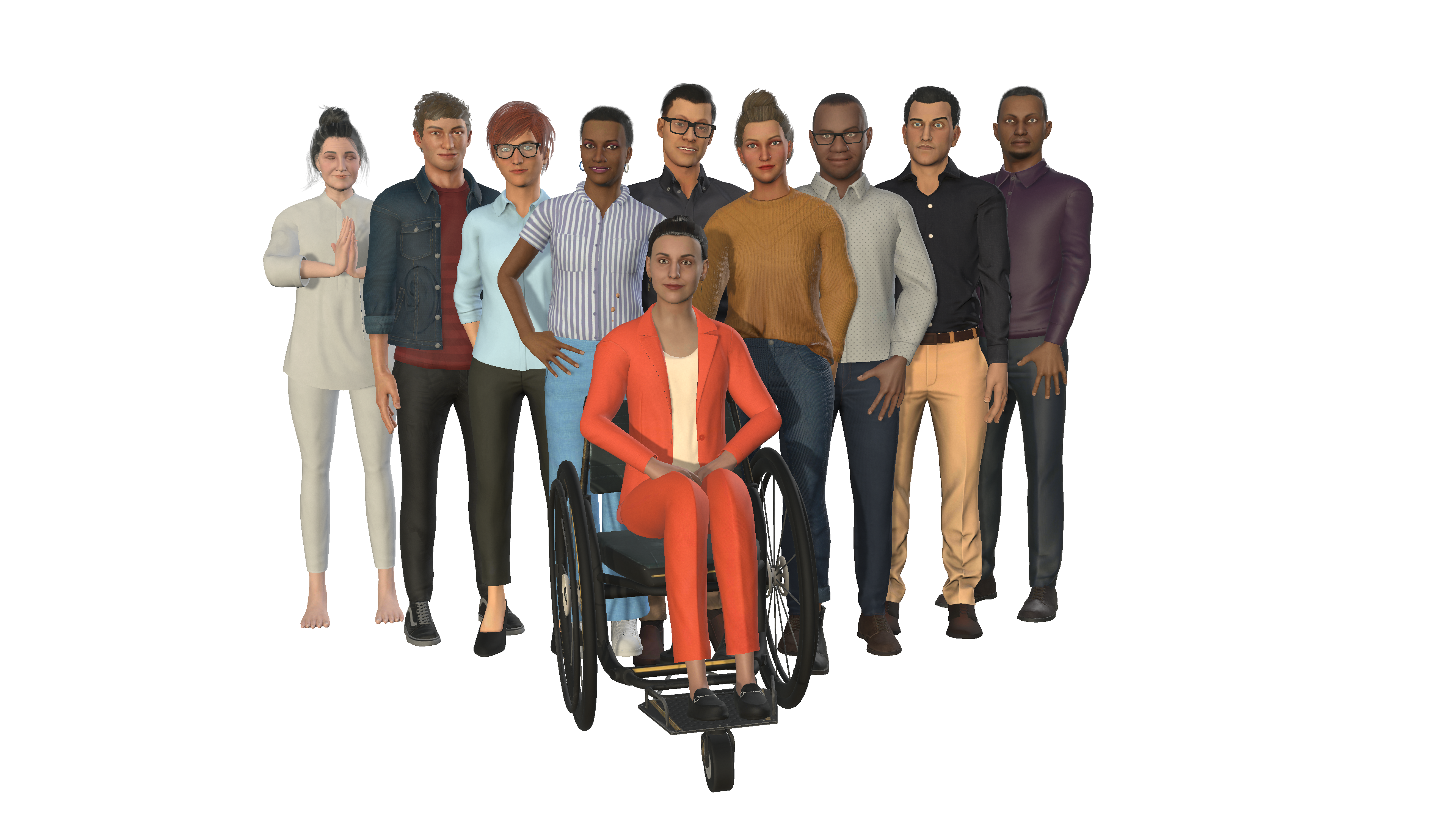 Version 1.7 is the product of our response to feedback generated through extensive pilot testing. Our biggest and most ambitious release to date, it incorporates new, more diverse characters and additional environments - as well as fresh content, additional functionality, a new onboarding experience, more personalised and informative analytics and lots of usability fixes.
Induction
To help first-time users to understand how to operate the features in the app and feel more comfortable interacting through the microphone, the experience begins with a quick induction from virtual coaches Ashley and Abeeku.
This induction session includes:
An introduction from the virtual coaches
Practise using the voice control
Avatar selection and embodiment
Operation of the new journal and palm-up display features where applicable (see later)
Important note
The induction sequence will run automatically the first time a user selects a module. How the induction works for subsequent sessions is impacted by what mode the Bodyswaps application is in:
The app can be in either Shared Device mode or Personal Device mode. These can be toggled from the app settings menu (by clicking the menu button on the left controller) or set directly by us at an account level.
In Shared Device mode, we assume that the headset is being used by a learner once and then passed onto another learner. In this case we do not store the learners progress between sessions and each user will then go through the induction sequence each time they run a module.
In Personal Device mode, the users progress is saved on the device and they will only see the onboarding sequence the first time they use Bodyswaps unless they decide to select it manually from the menu again.
Palm-up Display (PuD) and menu system
The pause menu provides access to sub-menus such as checkpoints for navigation, avatar selection (to change to another avatar) and settings. However, the pilot studies showed us that learners were often unaware of these options and how to access them using the different devices our platform supports.
To make these menus more intuitive, we've brought the menu system into the experience via a 'palm-up display'. This nifty holographic display unit is attached to the user's virtual left hand. Simply looking at your palm accesses any of the Bodyswaps settings. No more searching for buttons.
The palm-up display also doubles up as a reminder app, so if you are in the middle of a difficult conversation and need a little help, you can just look down without interrupting the flow of the activity.
Journal
With so much rich learning content in Bodyswaps, it can be hard to remember everything and sometimes there can be a lot to read. With 1.7 we introduce the journal - a note book with live updates containing useful hints and guidance that learners can refer back to whenever they want using their PuD. As learners progress through their training, notifications similar to the ones you might receive on a smartphone alert them to the addition of new articles.
This design feature has allowed us to reduce the amount of onscreen text and give a more immersive experience.
Performance analysis
A new, improved performance analysis dashboard makes feedback easier to read and intuitive, with clearly graded 'optimal', 'good' and 'needs attention' ratings in addition to the quantitative data about performance metrics. Clicking on a panel displays additional information on your performance and relevant expert tips.
Recording user interface
Through the pilot studies, learners told us that they didn't receive enough notification that they were going to be recorded in an intervention. We've now standardised this with a new Recording UI panel that the learner initiates. This is followed by a three-second countdown before recording begins.
Checkpoints and user progression
As our content got longer, checkpoints were added to aid navigation and help the user to pause and resume modules. This feature was added in 1.6 with the progress screen. However, there was still not a sense of progression through the checkpoints, so we've introduced a new checkpoint prompt to punctuate the module and sexed up our module complete screen!
Bodyswapping
Our signature body-swapping mechanism is one of the most impactful aspects of the experience, but in previous iterations, it was never fully explained or signposted to the learner. To rectify this, we've added a fun teleportation effect to help learners understand that their perspective is being moved from their avatar into the body of another character.
Headset re-centering
When taking off the headset for longer periods of time, its not uncommon for the headset tracking to get confused and reposition you, leaving the learner feeling a bit 'out-of-body'. This was previously correctable by pressing the thumbstick, but not many users were aware of this. We've added a new mechanism that gently fades out the scene as you leave the boundaries of your body and then gives the user an option to re-center. We hope this will improve the usability of this tricky issue.
Content: Job Interview Skills v2 Update
We've reviewed, improved and completely re-recorded the entire Job Interview Skills series to take advantage of the new features we've built.
Reduced the amount of onscreen prompts by leverage the journal
Introduced new mentors and characters
Added more visual aids on the environmental screens for greater engagement
Redesigned and gamified the 'Secret to great storytelling' activity to make the concept easier to grasp
Re-designed the observation sequence in 'Landing the Perfect Job' so easier to play and understand
Tweaked and edited the script
Created a customised onboarding sequence especially for JIS
Generally made things a bit more awesome!
Content: Mental Nurse Health Training
Healthcare providers, carers, friends and family often feel unprepared for conversations with someone who is having suicidal thoughts.
In this new simulation, you will meet Susan, who has tried to end her life on two occasions and is starting to think about suicide again.
Find out:
How to start the conversation
What to ask
How to respond.
What's coming next?
That's it for 1.7, we are currently working on smaller update of our Workplace Communication Experience series to make use of the new journal features and that will be in a 1.8 update very shortly.
We are also prepping v2.0 which is a major new update of the deployment system giving you user tracking, device management, analytics and class management from a new web-based administration portal.