Version 2.0 is here and this article explains what's new and what's changed.
Bodyswaps Go
The big difference in 2.0 is that Bodyswaps now supports user management.
What this means is:
Users now sign-in to the Bodyswaps app
You can control what content users see
You can track what users do
Users history is synchronised across devices
Users receive email certificates on completion
Bodyswaps Go is our web site for administering users enrolled for your organisation.
With Bodyswaps Go you can:
Create or import users (name/email)
Organise the learners into classes and send out invitation emails
View usage and success factors of Bodyswaps
You can read about Bodyswaps Go in more our Bodyswaps Go Guide.
Let's Talk About Race: Navigating Microaggressions
As part of our new series Let's Talk About Race, co-developed with George Brown College. We have included in v2.0 the first of three modules entitled Navigating Microaggressions.
Racialized and other marginalized members of society endure microaggressions every day. But some people don't know microaggressions even exist. This module will help to:
Improve awareness of microaggressions
Stop engaging in behaviours that create and perpetuate race-based harm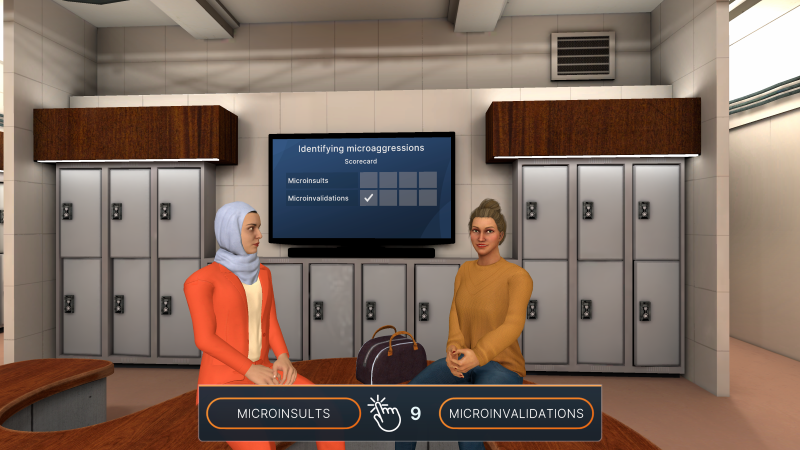 There are two more modules due for release at the end of March in this series.
Workplace Communication Essentials: Update
Active Listening, Clear Communication and Gender Inclusion have all received minor learning design update. They now utilise the journal feature we added in v1.7 as well as additional learner feedback during the lessons for improve learning outcomes.
Platforms
Bodyswaps 2.0 is supported on the following platforms: Oculus Quest, Pico Neo 3, Vive Focus 3, iOS, Android, PC and now also Mac.
Bug Fixes
This version also addresses:
Incorrect reporting of Body language analysis
Improved handling when users move out of position of their body