How to install Bodyswaps for Quest (Consumer and Business)
There are two versions of the Quest currently on the market - the consumer and business editions.
Oculus Store (Consumer Quest)
You'll need an Oculus Quest or Quest 2 headset that is set-up and linked to an Oculus account. If you haven't set-up your device yet then please look on the Oculus website:
https://www.oculus.com/setup/?locale=en_GB
IMPORTANT: Each Meta headset, such as the Quest 2, needs to be linked to a different Meta account or Facebook account. This is an OS feature designed to reduce piracy and affects all applications, not just Bodyswaps.
If you have multiple headsets connected to the same account, you'll only be able to access Bodyswaps on one headset at a time instead of simultaneously if they're set up with separate accounts.
Ideally, you would therefore need to create or use 1 email address with each new Meta account. Depending on your institution's IT policy, we found this to be a potential blocker.
Workarounds are:
Alternatively, turn on the Developer mode on each headset & load the Bodyswaps APK, read how here.
You can then download Bodyswaps from the
Quest App Store
as part of the App Lab section of the site. There are few ways to do this:
Option 1: Via a web browser
By far the easiest way!
The app should shortly automatically install onto your headset.
Option 2: Via the Oculus mobile app
You would have used the Oculus mobile app as part of the Oculus set-up process so it should be on your mobile phone already. Find the Oculus app and run it.
In the app click on the store tab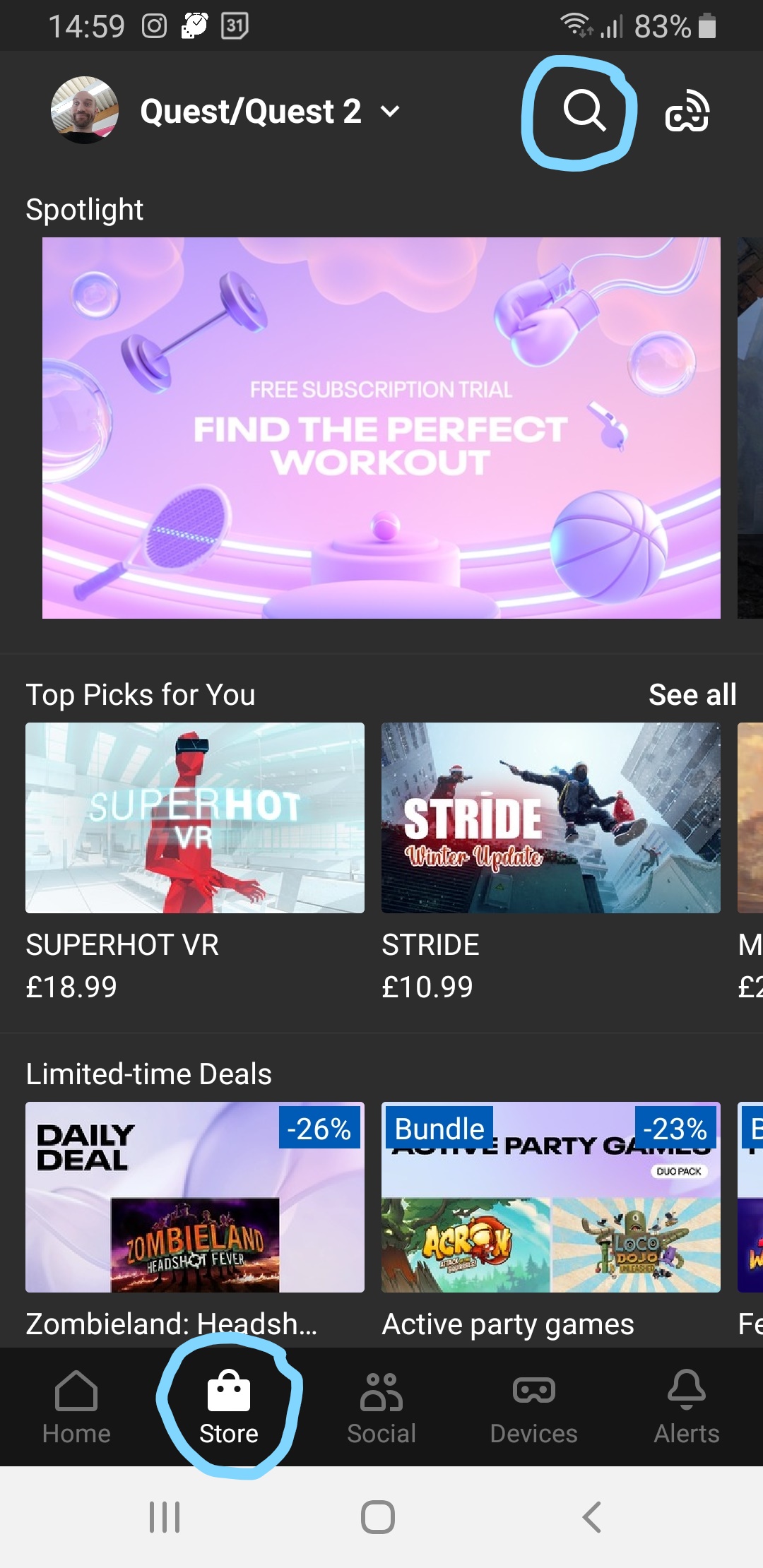 Click on the search icon at the top and type "bodyswaps"
Click on the Bodyswaps app to install - ignore the "This app may be experimental or still in development" message.
Accept the App Lab pop-up and click purchase / install
Option 3: Inside the headset
Lastly, you can install it using the Oculus Store in the headset
From the Oculus Home dashboard click on Store
Click the search icon and type "bodyswaps"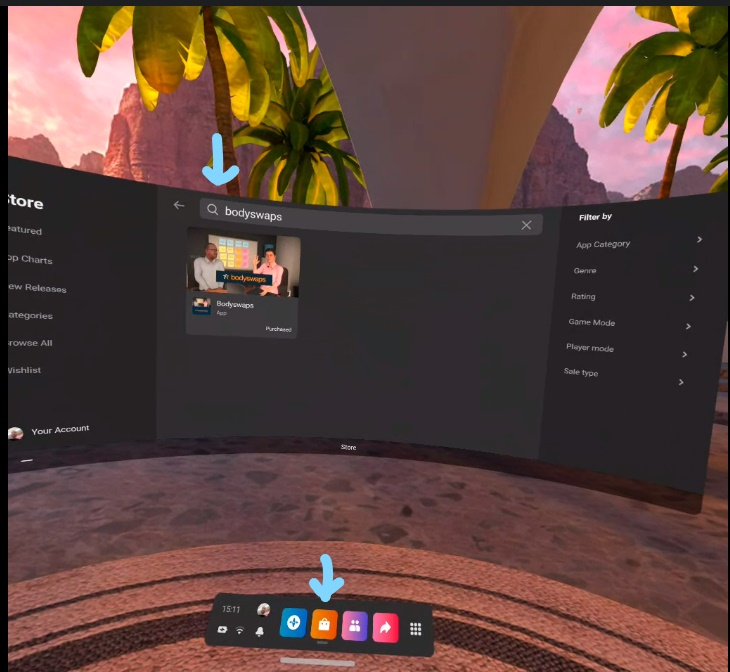 Select Bodyswaps App
Accept the App Lab warning
Click OK on the app lab Purchase / Install (the app is free)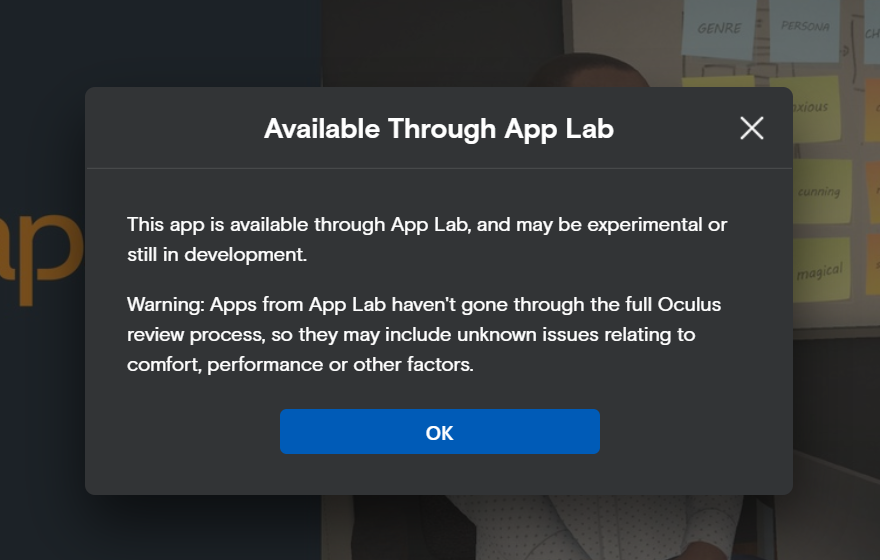 Third-party MDMs & Sideloading
You can install Bodyswaps using the following MDM / tools:
Oculus For Business (depreciated)
Oculus For Business is discontinued and no longer available for purchase. Meta doesn't provide their own MDM solution yet to replace it

Previously, using a consumer Quest required the administrator to use a Facebook account, however, they can now use the new "Meta accounts". Meta accounts can be quickly created with any email. Existing Facebook accounts can be migrated to a Meta account relatively painlessly. As mentioned, each meta headset, such as the Quest 2, needs to be linked to a different Meta account or Facebook account.
You can use a third-party MDM such as Arbor XR or Manage XR for a monthly fee. Using an MDM like Arbor XR or Manage XR allows you to install our app (and any other ones you may be using) remotely on a fleet of devices. If you are using Arbor XR or Manager XR and would like to be added to our Bodyswaps distribution list, please contact your Customer Success team member or email support@bodyswaps.co for further details.
Oculus for Business Device Manager
Oculus for Business is Meta's enterprise solution for Quest that is being depreciated next year. The steps are:
Enter the URI and hashcode above.
Go to the Devices Fleet tab, click on the desired headsets group and then Apps tab.
Click Add App and select Bodyswaps app from the list and press Save.
Bodyswaps will then be installed automatically on your devices when they are next on and connected to the internet.
Troubleshooting
Oculus for Business dashboard says the installation failed when attempting an upgrade
This is an issue with OFB. The recommended solution is:
Uninstall any previous installations of Bodyswaps
Delete the Bodyswaps app from your App Library
Add it back in using the instructions above.